NEXCOM's mobile data terminal (rugged tablet PC), MRC Series, provides mobility solutions to streamline daily operation for field service, warehouse management, mobile inspection, fleet management, portable POS and store operation. NEXCOM's in-vehicle computers are equipped with optional daylight readable and reliable display and wireless technology.
MRC Series, the Rugged Mobile Tablet Computer for Real-time Management
The MRC series is designed for mobile workers requiring real-time information who can not access desktop PC or laptop. Its integrated wireless technology enables field technicians to access job assignments, order parts, conduct research and instantly log service reports. With the powerful 3.5G mobile broadband engine, the MRC series can benefit users by efficiently utilizing existing broadband whilst expanding service coverage.
Some MRC Models also have a hot-swappable battery which further increases the battery life to extend service hours. The IP-54 rated rugged design makes the durable MRC series suitable for use in even harsh environments. For logistic and warehouse management applications, the MRC series is equipped with a built-in barcode scanner and RFID reader. Onboard GPS and sunlight readable LCD make the MRC series ideal for outdoor applications. Typical applications include, but are not limited to asset management, building automation, mobile CRM, meter reading, on-site troubleshooting, AVL/ GIS/ mapping, field data collection, plant operations, quality control, WIP tracking, surveillance/ inspection, surveying, mobile POS, shelf labeling, fleet management, marine navigation, shipping/ receiving, health care services, etc.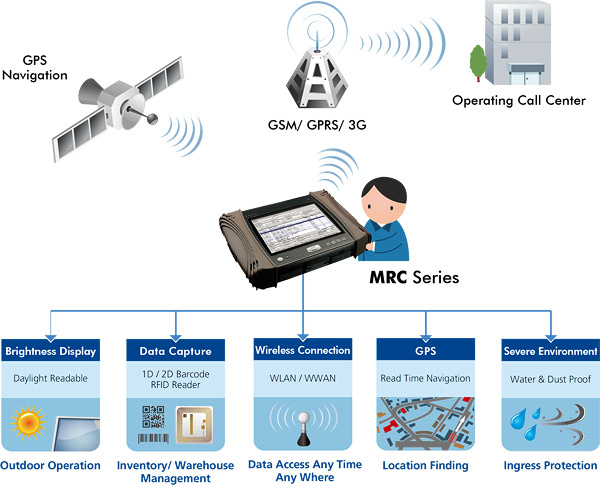 MRC Series Main Features
Daylight reliable display
Resistive touch LCD display
Integrated 1D/2D barcode scanner or RFID reader
Integrated GPS, WLAN, WWAN, and Bluetooth
Rugged design for MIL-STD810F and IP54
Drop resistant from a height of 4 feet
Integrated CMOS
One navigation key and four programmable function keys
Hot swappable battery