Along with NDiS series digital signage players, NEXCOM offers a wide range of digital signage appliances, known as the PDS series; which integrates ultra-reliable hardware with feature-rich software. The PDS series can be applied in a number of applications including bulletin board, video wall, in-vehicle signage, Kiosk and public information. Continuing to drive technology in the digital signage market, NEXCOM introduces the next generation of PowerDigis solutions to better serve its valued customers.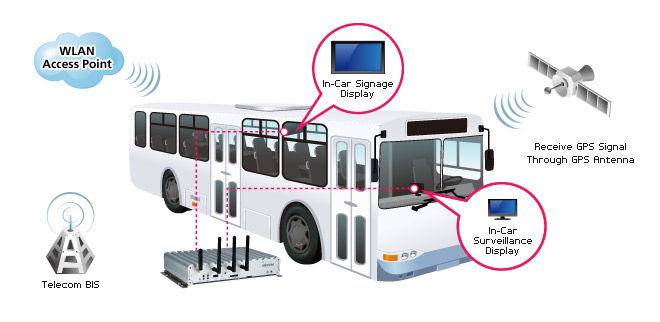 Ride with Smarter PowerDigiS V2 to Enhance Interaction
Experience, engagement and interaction across a variety of media platforms with rich content are some of the key market trends in digital signage. The PowerDigis V2 is designed to support integration with interactive content and Event Trigger methods to bring the targeted audience closer to the advertising. The following items are some key features of this new smarter software:
Touch Screen Integration
PowerDigis V2 provides user-friendly GUI for user to define active areas and corresponding actions. When user touches the touch screen, it sends a command to Player and triggers the playback of the pre-defined playlist.
GPS Integration GPS technology is also integrated to provide excellent location-based digital signage. User can define playlists for each location on the Google map to be displayed in moving vehicles.
Zone Content Sync
The new PowerDigis allows you to synchronize content playback between different zones. For instance, if you play a specific product introduction video, all other relevant playlists will be played simultaneously as illustrated.

Scene Editor
Scene Editor allows you to create new layouts, draw zones and add widget as desired or simply select the default layout templates to edit scenes.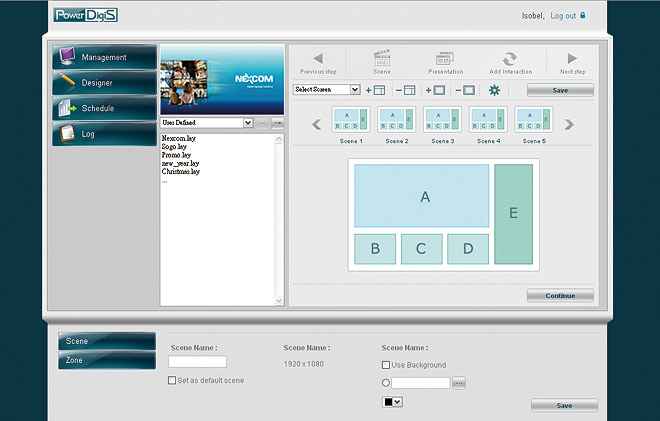 Interactive Presentation Design
The PowerDigis Event Trigger feaures multiple input interfaces to activate pre-defined contents to be displayed on the screen. User can use Presentation Designer to easily create interctive presetations based on the trigger methods. Powerful Digital Signage Management Software.
This web-based media management application allows you to easily manage, schedule, and publish digital media through the CMS website or Player Web Management Console.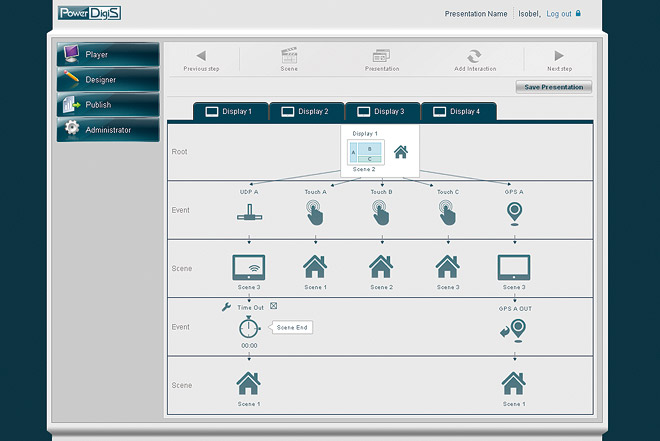 Presentation Designer
PowerDigis solution includes a web-based design tool, the PowerDigis Presentation Designer, which reside on the PowerDigis CMS and Player. Through the Presentation Designer, you can add and manage dynamic media contents, edit scenes as well as create time-based or interactive presentations for single or multiple players.