NEXCOM provides a full range of security surveillance systems, from mobile NVR, hybrid DVRs/NVRs, to PC-based NVR solutions. Featuring fanless design and advanced IVA (intelligent video analysis), NEXCOM's security surveillance solution, assuring system reliability and performance, is best used in supermarkets, chain stores and banks. Some of NEXCOM's security surveillance solutions are integrated with power ignition, PoE connection and supported a wide range of DC input and therefore ideal for mobile applications, such as police cars, trucks, buses and ambulance.
Integrated PoE and Intelligent Hybrid Embedded DVR/ NVR System
In response to increased global demand for intelligent surveillance solutions, NEXCOM has introduced NViS series of integrated PoE and intelligent hybrid embedded DVR/NVR systems, which provide the perfect solution for security protection. With the NEXCOM all-in-one server board, customers are able to save time and cost as well as fulfill demands of CCTV and IP surveillance in the marketplace.
Integrated with cutting-edge Intel technology, NEXCOM's hybrid surveillance system implements advanced intelligent video analysis (IVA) which is capable of handing multiple threads at the same time. For instance, tasks such as flow counting, privacy masking and missing object detection can rapidly be performed.
The NViS 2140/ 2280/ 3540/ 5240 series with built in Intel® Atom™ processor, features a compact and energy-efficient design. Incorporating POE and power ignition technology, the three series eradicates the difficulties associated with providing different power sources to devices such as IP camera in buses, police cars, sightseeing buses, and school buses etc. The NViS 7280 series supports a wide range of Intel® Dual Core or Quad Core CPUs. Embedded with high quality video/ audio capture chips, NViS series is the best design for security surveillance.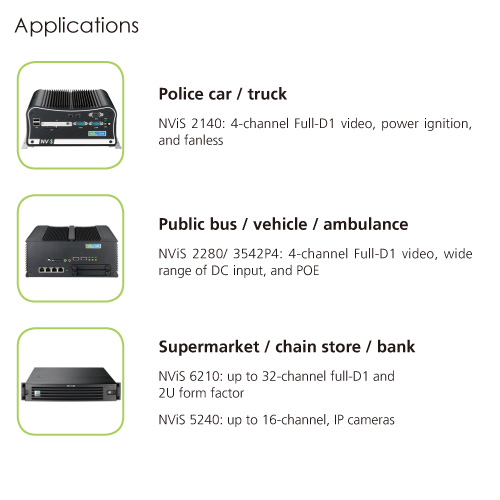 NViS Series Main Features
Industrial-level for PC-based DVR
Embedded video decoder chips on motherboard provides steadier and easier operation
Fanless design improves reliability and eliminates systems failure caused by fan breakdown to retain low maintenance cost
Power over Ethernet (PoE) device connection
Hybrid surveillance enrich IVA applications
Integrated with power ignition
Wide range of DC input from 9V to 36 V for mobile surveillance