Automotive digital signage is emerging as a useful tool to enrich passengers' transportation experience. NEXCOM has launches a series of digital signage player, the PDSB Series for vehicle signage. Specifically designed for in-vehicle working environment, the PDSB Series features ignition control and easy adaption to car power system and can be best integrated with bus, train, taxi and subway.
Hardened and Reliable PDSB Series
PDSB Series, a dedicated digital signage player product line with built-in PowerDigiS software, can support dual independent displays with DVI or VGA output and high-quality video, still or motion pictures, and dynamic messages. Designed for in-vehicle working environment, PDSB is compliant to most industrial serial for in-vehicle operation, e.g. e-Mark. The ultra-reliable design enables PDSB work under wide operating temperature rang and can withstand extreme levels of shock and vibration. The power ignition function and wide voltage design enables PDSB to be directly powered from a vehicle's battery. The integrated power ignition functions GPS and 3.15G connectivity are one of the unique points to differentiate PDSB from other products.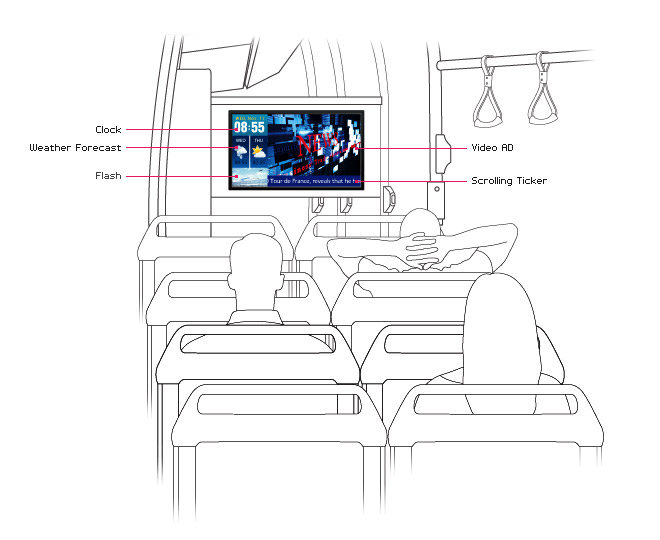 PDSB Series Features and Benefits
Industrial-grade design for better reliability
Resilience to high vibration and temperature harsh environment
Fan-less design for lower maintenance cost
Flexible ignition control, easy adaption to car power system
Slim and compact dimension for easy integration in-Vehicle environment
Compliance to e-Mark, EN50155 industrial regulation
Hardware accelerated playback of wide variety of media formats to lower total cost of ownership
Flexible display output options, single or multiple screens support
Variety of multi-media contents support
Quick multi-media presentation design and publish
Easy content management with wireless LAN, or 3G/3.5G radio network.
Remote and central management support