In-vehicle computing solutions provide a wide range of in-vehicle computers, which can be integrated with transportation systems, such as buses, trucks, police cars, taxi and trains. Equipped with rugged design and great expansion options, in-vehicle computing solutions best address vehicle tracking and monitoring, real-time voice and data communication, in-vehicle infotainment and digital signage applications, emergency medical services and fleet management.
Real-time and Live Access to Information
In-vehicle computing solutions have changed business activities, engaged staff and encouraged new working practices.It allows users to focus on delivering the best service to customers by creating seamless service experience.
VTC Series, the Intelligent Vehicle Telematics Computer for a Mobile World
VTC series is an innovative in-vehicle computer which is suitable for a wide variety of applications within buses, trucks, police cars, taxi cabs and numerous other vehicles. Based on Intel's energy efficient Atom™ CPU, the compact VTC series is fully compliant with most industry standards for in-vehicle usage including e-Mark certification and EN50155 which is used in train applications. Designed for usage in even the most extreme environments, the VTC series is capable of operating at -30°C to +60°C degree, and can withstand dramatic levels of shock and vibration up to 2G. An optional IP65 enclosure further enhances the
systems ruggedness.
For in-vehicle infotainment and digital signage applications the VTC series boasts a multitude of display interface connections such as VGA, TV-out and LVDS. Other features include a PCI-104 expansion slot for CAN bus or COM expansion and optional Mini-PCI express WLAN/ 3.5G modules. And to facilitate mobile communication and navigation, the VTC series also has integrated GSM, GPRS, UMTS, HSDPA and GPS.
With built-in power ignition on/ off delay control, the VTC series can adapt to various power supply conditions within transportation environments. For increased flexibility, the series have a wide range power input with an external smart battery backup for uninterrupted power support.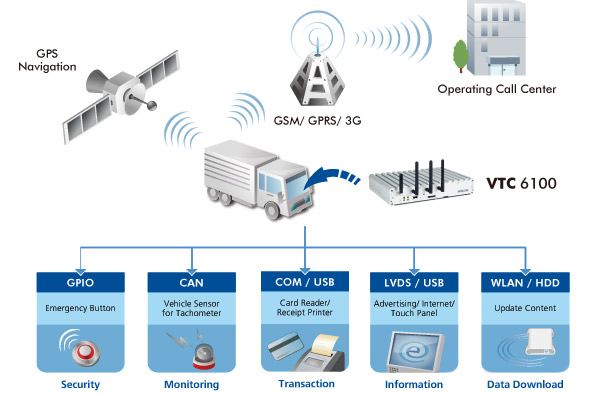 VTC Series Main Features
Fanless, compact and rugged design
Integrated GSM/ GPRS/ UMTS/ HSDPA and GPS for mobile communication and navigation
Wide range of Power ignition control, battery low-voltage protection
Dual display for CRT and LVDS/ TV out outputs
Flexible I/O connection options and PCI-104 expansion
Optional: anti-vibration kit (VTK 33V), Back-up battery kit (VTK 61B) and IP65 kit (VTK 61P)