The benefit of using hospitality digital signage is recognized by hotel, conference center, casino, resort, and other hospitality sites. It allows the venue owners to enhance services and show commitment to a satisfying guest experience. Eventually digital signage helps to provide guests a pleasant stay, increasing the possibility for repeat visits.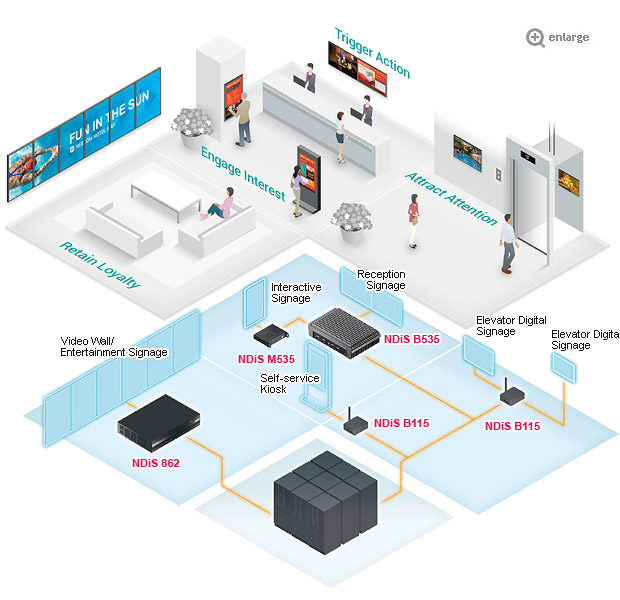 From welcoming guests in the lobby to reception area providing guidance of facilities, the hospitality digital signage can present guests dynamic news, live weather, traffic, and tourist information. In the lobby, corridor, and high traffic area, digital signage display or video wall effectively presents hotel brand image, services, and special offer. Digital signage also provides an easy way to display event listing with schedule, and direct visitors of way finding conveniently.
Successful Factors
The use of digital signage in hotel is to guide the guest in unfamiliar location, therefore requiring clear, captivating displays with high resolution to catch guests' attention. Ultra HD (4K2K) resolution video streams not only present information smoothly and clearly, but also contribute to hotel atmosphere with a sense of relaxation with elegance.
For sophisticated hotel decoration, the digital signage system should be compact size in order to fit or hide into walls easily without contradicting the decoration. The reliability and effortless maintenance of digital signage are a must. Besides sleek signage display, self-service touchscreen feature allows hotel guest to access information more conveniently, reducing waiting time from reception desk. More and more hotel guests are engaged to use interactive kiosk and touchscreen technology for enhanced user experience.
NEXCOM's Strengths
Answering to the guest-centric requirement from hospitality market, NEXCOM, with profound experience and knowledge in embedded computing industry for more than 20 years, makes it easy for hospitality venue owners to establish an affordable signage network across multiple facilities with reliable performance and minimum maintenance labor. Moreover, NEXCOM digital signage system features powerful transmission capability with compact design and rich I/O interface, interactive kiosk and many extra add-on devices supporting variable hotel digital signage applications.
NEXCOM signage system acts as a communication backbone which enables information visualization. Guests can simply access to all kinds of up-to-date information efficiently and effectively from NEXCOM empowered high resolution multimedia contents or touch screen assisted self-service facilities. NEXCOM multiple display signage players allow the realization of enchanting video wall advisement concept. Overall, it is cost effective and ideal to deploy NEXCOM digital signage system for balance of hotel operation and business benefits, contributing a memorable hotel guest experience, and potential revenue streams from successful advertisements.