With fanless design, NEXCOM PC-based digital signage player/ RISC based signage player is widely utilized for advertising, branding, real-time message and information delivering and entertainments. Good designed digital signage solutions ensure right messages are delivered to right audiences.
Booming Era of Digital Signage
Digital Signage offers good opportunities to generate revenue by promoting and advertising products to a specific targeted market on demand, and to build brand image by influencing customer behavior and catching their eyes. The majority of digital signage deployment occurs within passenger terminals, retail stores, super markets and restaurants; other applications within transportation and self service are also getting attentions.
NDiS Series, Reliable Embedded Digital Signage Player
NEXCOM NDiS series addresses the requirements for a broad spectrum of digital signage applications. The product family covers from very low-cost, low-power consumption RISC based signage player, x86 low-cost yet powerful media players, to high-end media players with multiple video outputs. The NDiS series platform boosts all features required to build digital signage display networks that make targeted messages flexible and easy. Customers can effectively deliver messages to consumers in real time, reduce costs associated with constant ways of advertising and provide completed control along with enhanced flexibility.
NDiS fanless design cuts tremendous maintenance costs by eliminating dust accumulation. Especially when a system is located at a remote site, the fanless design provides great reliability and a low failure rate. In addition, the slim and compact enclosure makes it easy for NDiS media player to be mounted behind LCD monitors or plug into mission-critical applications.
The initial cost is a tipping point for customers' choices of digital signage. Among all components, hardware costs can be cut down by deploying NDiS multi-output media players, which support more than two video outputs or dual independent content outputs.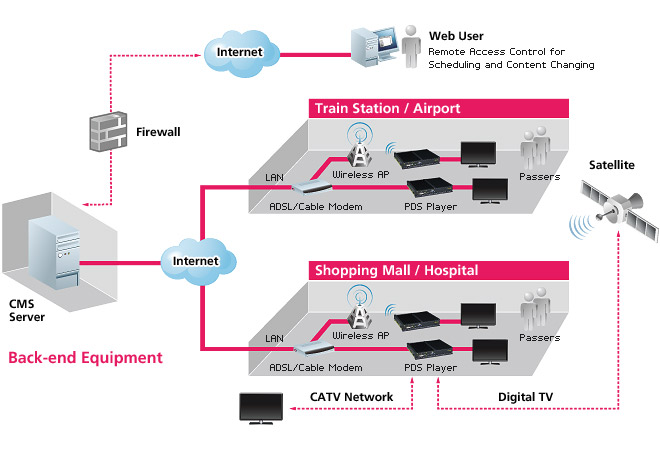 NDiS Series Features and Benefits
PC-based platform supporting off-the-shelf hardware and software parts
Industrial-grade design for better reliability
Fanless design for lower maintenance cost (selected models)
Slim and compact design for easy integration with large-size display devices
Hardware accelerated playback of wide variety of media formats to lower total cost of ownership
Flexible display output options for VGA, DVI and HDMI, single or multiple screens support
Optimal configuration to handle SD, HD or Full-HD quality of contents