COM (Computer-on-Modules) Competence Center Services
The CCC Service provides clients full engineering design support, no matter if they have their own carrier board or design expertise. To gain a head start, the CCC Service has prepared the COM Starter Kit to help clients evaluate and verify full computing capability, peripheral and communication interfaces of the selected NEXCOM COM Express modules. Along with complete design reference documentation and expert advice from NEXCOM engineers, clients can simply customize a reference carrier board to application needs while ensuring the changes are both practical and feasible.
Going beyond to system level, the CCC Service further takes part in on-site co-debugging, thermal and environmental validation and the following mass production. In addition, COM Express board products are offered with value-added features and extended warranty so that systems can operate in even harsh operating environments.
By providing full tech support at every step of COM Express solution development cycle, the CCC service ensures end systems built on NEXCOM COM Express modules operate the way they are designed to. As a result, clients can easily speed COM Express solutions to market while reaping the benefit of future-proof COM Express architecture.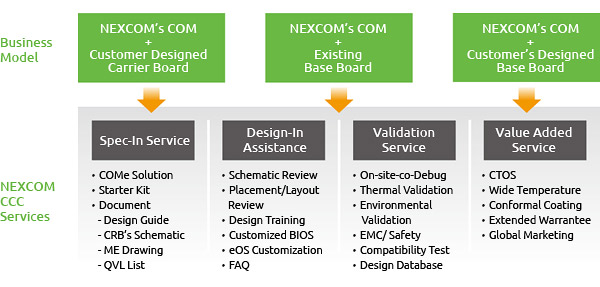 Leading COM Express Solutions
ICES 670-COM Express Type 6 Basic Module Based on 4th Gen. Intel® Core™ Processor Family with ECC
COM Express type 6 basic module ICES 670 features the 4th generation Intel® Core™ processor family paired with mobile Intel® QM87 Express chipset. ICES 670 supports from dual-core Intel® Core™ i5-4400E to quad-core Intel® Core™ i7-4700EQ, and up to 16GB DDR3 1333/1600MHz SDRAM with error correction code (ECC function). The ICES 670 integrates an embedded controller (EC) and offers embedded application programming interface (EAPI). With enhanced hardware compatibility, this COM module can help hasten the proliferation of intelligent systems which are easy to manage.
NEX 671 COM Express Type 6 Compact Module Based on 4th Gen. Intel® Core™ Processor Family
COM Express type 6 compact module ICES 671 features the 4th generation Intel® Core™ MCP U processor family, which integrates CPU and PCH onto one single chip. Therefore, ICES 671 can offer lower power consumption and better graphic performance in smaller board size. This compact module is ideal for medical, digital signage, automation, and surveillance applications.
ICES 620X COM Express Type 6 Compact Module Based on Intel® Atom™ Processor E3800 Product Family
COM Express ICES 620X type 6 compact module based on the Intel® Atom™ processor E3800 product family (5W ~10W), single DDR3L SODIMM memory socket with ECC support, up to 8GB. The ICES 620X COM Express module offers valuable features such as -40C~85C wide industrial temperature range, faster graphic performance, lower power consumption, and flexible I/O connectivity. The ICES 620X is ideal for medical, healthcare, defense and aerospace applications.
CCC Service with Starter Kits
The success of COM Express design-in project depends on intensive technical support. By offering a series of Starter Kit and professional assistance at every step of the product development lifecycle, NEXCOM Computer-on-Module Competence Center Service (CCC Service) can make every design-in a design-win.
Customers Benefit from the CCC Service
Choosing NEXCOM CCC service, we provide Computer-on-Modules Evaluation Starter-kit as proof-of-design ready for customer got fast customization solution in short time and saved cost and resources from validation, development to production. Moreover, the customer could carry out upgrade simply by swapping COM Express modules. NEXCOM also helped the customer with customized BIOS and Embedded Linux in same project scope. Wi th the leadi ng platform solution, the customer is allowed to enjoy more market advantages.
Frame Rate

ICES 670

ICES 671
ICES 620X

COM Express Type

Type 6, Basic 95 x 125mm

Type 6, Compact 95 x 95 mm

Type 2, Basic 95 x 125mm

Processors

BGA type onboard/
i7-4700EQ/i5-4400E/
i3 4100E/
Celeron® 2000E

BGA type onboard/
i7-4650U/i5-4300U/
i3- 4010U/
Celeron® 2980U

PGA type socket/
i7-3610QE/i5-3610ME/
Celeron® B810

PCH Chipset

QM87

N/A

N/A

Memory, 2 x SO-DIMMs

ECC-DDR3L up to 16GB

DDR3L up to 16GB

ECC-DDR3L up to 16GB

LVDS

Dual Channels

Dual Channels

N/A

VGA

1

1

1

Digital Display Interfaces

3 x DDI (1 x DP/HDMI/DVI/DP)

2 x DDI (DP/HDMI/DVI)

2 x DDI (DP/HDMI/DVI)

Networking

GbE (PCIe)

GbE (PCIe)

GbE (PCIe)

HDA

1

1

1

PCI Express

7 x PCIex1,1 x PIex16

4 x PCIex1

4 x PCIex1

USB2.0/3.0

8/4

8/2

7/4

SATA2.0/3.0

0/4

0/4

2/0

Operating Temperature

-15°C to + 60°C

-15°C to + 60°C

-40°C to + 85°C

CRB, Carrier

ICEB 8060 (Type 6)

ICEB 8060 (Type 6)

ICEB 8060 (Type 6)

ICES Starter-Kit

Type 2/Type 6

ICEK 670-T6

ICEK 671-T6

ICES 620X-T2