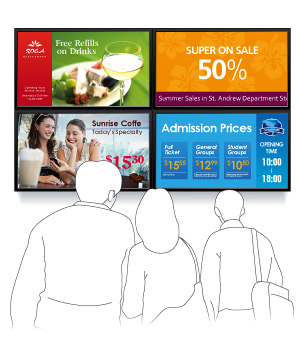 The bulletin board solution, with preloaded user-friendly PowerDigis software, supports multiple layouts. Each layout can be divided into 9 zones, presenting different content in a pre-defined sequence to optimize eye-catching delivering. Enclosed in a compact chassis, NEXCOM digital signage player can be easily mounted on display devices within entertainment venues, hotels, and public transportation to deliver dynamic messages and advertising.
Flexible and Easy to Use
The dynamic messages and full color motion videos delivered by digital bulletin board are proven to draw consumers' attentions and effectively influence their purchasing behaviors. The technology of both hardware and software in digital signage is becoming more mature and applicable. Competition and the evolution of technology have dramatically reduced the cost and hassles of keeping digital bulletin board up to date.
PDS Series, High Performance, Rich Features with Built-in Powerful PowerDigiS Software
NEXCOM has released a series of technology advancing, feature-rich and cost-effective media players with seamless hardware and software integration, called PowerDigiS (PDS) series. PDS series media players cover from very low-cost, low-power consumption RISC based appliances, x86 low cost yet powerful appliances supporting Full-HD video, to dual or quad video outputs media player appliances. Depending on models, the media player system is equipped with options of different number of splendid video and audio interfaces, and options of different video resolutions.
PDS can support multiple layouts. Each layout can be divided into 9 zones, presenting different content in a pre-defined sequence, including videos, flash, text, PowerPoint, banners and web pages. PDS also has spanning feature, which enables media content to span multiple displays. It is very flexible for advertisers to create eye-catching promotions.
Four capacities of PDS series includes:
High flexibility to address single, dual, or multi-screen applications.
High availability to build in automatic failover protection and automatic reboot function.
High scalability of a fully scalable system for small and large deployment.
High manageability to manage entire network from centralized location.
PDS Series Features and Benefits
Industrial-grade design for better reliability
Fan-less design for lower maintenance cost
Slim and compact dimension for easy integration with large-size display devices
Hardware accelerated playback of wide variety of media formats to lower total cost of ownership
Flexible display output options for VGA, DVI, and HDMI, single or multiple screens support
Optimal configuration to handle SD, HD, or Full HD quality of contents
Variety of multi-media contents support
Quick multi-media presentation design and publish
Easy content management with Wireline or wireless LAN.
Remote and central management support