NEXCOM's industrial machinery computer, the APPC Series Panel PC, adopts an all-in-one concept that integrates a single board computer, LED display, and user-friendly touch screen within a slick and compact NEMA 4/ IP65 chassis. With wide range power input, the APPC Series Panel PC, featuring IP65 rated touch panel which offers superb protection against dust and water, is designed for a variety of applications, such as industrial manufacturing, warehouse and logistics, access control, machine control and transportation applications.
Industrial Functionality with Cost Saving, Green Technology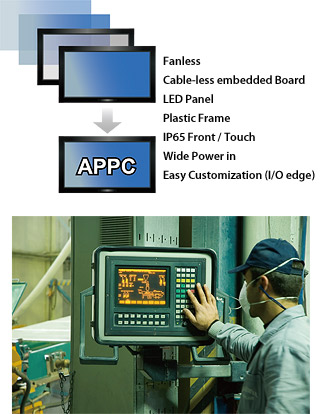 Designed to serve as a flexible and reliable industrial computing platform, each NEXCOM Panel PC is a compact, highly integrated, network-ready computer with exceptional I/O connectivity. The industrial graded Panel PC from NEXCOM is designed for use in harsh environments where shock, vibration and resistance are an issue. The NEXCOM Panel PC range includes a wide range of platforms with different display dimensions and peripheral I/O alternatives. APPC series, therefore, meets user requirements for a high-performance panel PC with compact design and affordable price.
With flush touch panel in APPC series, there is IP65 front protection and flat panel which can have truly dust and water protection. Especially it can have wide range power input from 9V to 36V. APPC can work in factory, transportation, and machine. With APPC automation SKU, COM port can be isolation to fit industrial field application.
The APPC series is totally fanless, and, therefore, guarantees noise-free, ultra-reliable operation. With integrated low voltage single board computer and super slim bezel design, the APPC Series is environmentally friendly and easy to upgrade.
APPC Series Main Features
8", 12.1", 15" and 17" 4:3 fanless LED Panel PC (17" is CCFL)
Dedicated Panel PC board with Atom™ D525 dual core processor and 1GB DDR2
Water-dust IP65 proof plastic front protection
5-wired touch screen with IP65 sealed overlay
2x GbE/ 2x USB/ eSATA/ PS2/ Line-out/ 2x mini-PCIe
Support 2.5" SATA HDD
9V- 36V wide range power input
4 x serial ports : 2 x RS232, 2 x RS232/ 422/ 485
2 x extra USB (defined in APPC 1221T and APPC 1521T)
COM1/2 RS232/ 422/ 485 Isolation (APPC 1221T/ 1521T)
Resistance to vibration/ shock