Integrated with high quality LCD display, the AIO PC based PDSP Series offers cost-effective and high-performance solutions to address a broad spectrum of digital signage applications for dynamitic advertising, brand promoting and real-time messaging.
Wave Goodbye to Installation Hassle
When evaluate purchases of digital signage, all-in-one display is definitely one of good options for consideration. It can save abundant time to figure out the compatibilities among machines and different software, wave goodbye to annoying cables, and make it simple during installation.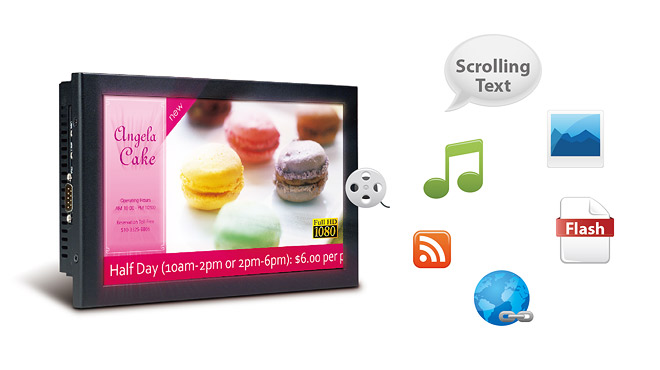 Plug and Play! PDSP Series Offer Easy Installation with Integrated High Performance Hardware and Software
PDSP is an all-in-one approach digital signage display, which seamlessly integrated with PC-base digital signage player, high quality 16:9 LCD touch screen display, and digital signage software housed in a slim chassis. It is capable of playing Full-HD 1080p video and variety of multi-media contents, including still, animated images, scrolling text, web page, and RSS news feed. Based on the energy-efficient and fan-less design, PDSP is made for ultra-reliable long-term operation. Equipped with feature-rich PowerDigis digital signage software, PDSP is a powerful tool enabling designer to target specific audiences with imaginative and vibrant content. As such, PDSP can be deployed in a wide variety of applications such as public messaging, information sharing, facility guidance, and advertising in hospitality, retail, education, healthcare and transportation.
PDSP Series Features and Benefits
All-in-one and industrial-grade design for better reliability
Fan-less design for lower maintenance cost
Slim and compact dimension for easy wall mount, shelf mount
Hardware accelerated playback of wide variety of media formats to lower total cost of ownership
Flexible options for display outputs, single or multiple screens support
Optimal configuration to handle SD, HD, or Full HD quality of contents
Variety of multi-media contents support
Quick multi-media presentation design and publish
Easy content management with Wireline or wireless LAN
Remote and central management support